5 must-visit Romantic Places in Singapore for Honeymoon Couple
Newlywed plan their honeymoon vacation just after their marriage as it is considered as the best time to spend with each other and make a new bond before starting their new life. We all know the importance of a honeymoon, and usually, couples want it to be romantic and fun. Nowadays, couples do not look for beaches or islands as it only offers a limited amount of fun. On the other hand, a Honeymoon in Singapore is the ideal option for couples as it is the best honeymoon destination all over the world.
5 Must Visit Places for Honeymoon couples in Singapore
Singapore is popularly known as one of the best cities for romantic holidays, especially for honeymoon couples. The reason behind it is that it has everything that makes a couple make their vacation fun and worth remembering. From long beaches to prominent skyscrapers, adventure sports to romantic dinners you have everything in the package.
As a frequent traveller, I have been to Singapore more than once. And on basis of personal experience, I recommend these 5 places to my relatives and friends who are looking for a destination with a romantic setup.Â
1. Changi Port Coastal- for Long Walks
Famous by the name Changi Boardwalk, this port is located approximately 2 kilometres away from the coastline. Beautiful in its way, this place is one of the most romantic locations where couples can enjoy long walks. It has a deep blue side on one side where you can also catch bumboats to measure the sea and its vastness.
Timings: Open 24 hours
2. Bukit Batok Town Park
If you are a nature lover and prefer wandering in the lap of mountains and water on your side holding your partner's hand, then there are no better places to visit in Singapore for couples than Bukit Batok. Greenery all over the place, this little Guilin offers some serene and picturesque views that you will enjoy by the lakeside to increase your romance quotient.
Bukit Batok is perfect for photoshoots if you want some good pictures to post on social media to make other people go crazy.
3. Cable Car Dining for Honeymoon in Singapore
Every honeymoon vacation is incomplete without a beautiful dinner where you enjoy a lavish dinner and long talks. Well, how will it sound to get one over the top of the city? Sounds fantastic, right? You can book a cable car to enjoy some fantastic panoramic views while you have some delicious cuisines with your better half.
The major highlight of this cable car is that it takes off from the tallest peak located around 330 feet above sea level. Drink some wine while enjoying the city lights from the top to make your night memorable.
4. Visit Sentosa Island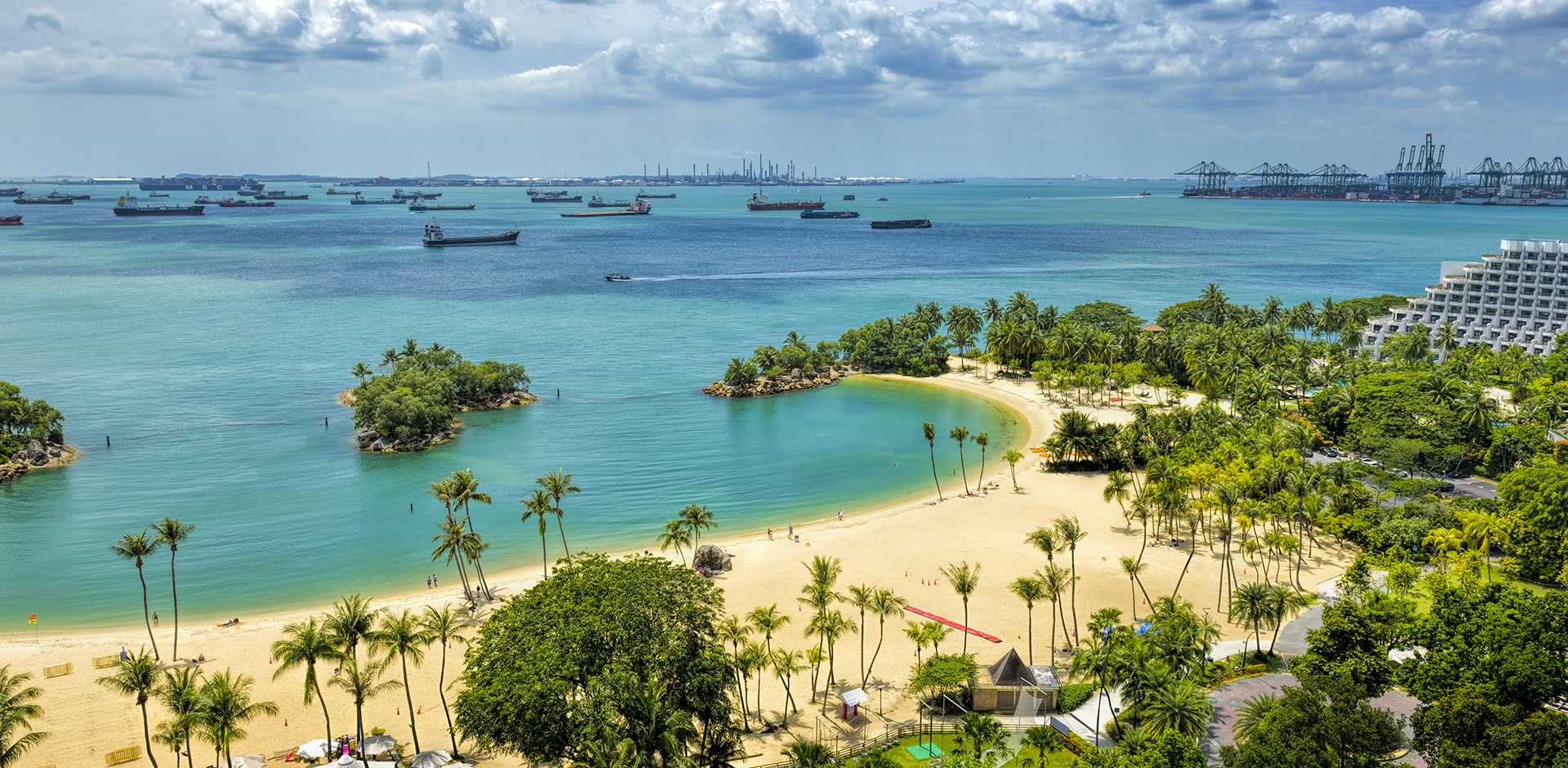 When you are in Singapore, you cannot miss your visit to Sentosa Island even for a single day visit. Usually, couples prefer Bali or Phuket for their honeymoon because of their exotic beaches. Well, on Sentosa Island you get a chance to stay on the beach-side with your partner. Enjoy lovely sunsets, long night walks, sunbathe to make some memorable times.
You can also enjoy water sports, or a visit to a museum & the world's largest aquarium in your spare time.
5. Singapore River Cruise
Cruising is considered one of the most romantic and loving things that a couple can do on their honeymoon. Imagine being with your partner while you go into beautiful waters with alluring views of long islands and water till your eyes go. You can plan whether you go for a day or a night cruise. A night cruise means a romantic dinner under the sky where you get a chance to stargaze. Singapore Cruise at night is highly recommended for couples who are on their honeymoon.
You can book your Singapore cruise honeymoon packages by visiting the port in the courtyard, or you can do it online as well.
Why booking a package can be a good idea.
Booking a whole package on your own is quite a task and takes most of the couple's time. Instead of enjoying the little details of your vacation, you spend your time & efforts managing things. To save yourself from unnecessary hassle and work, booking a package from a good travel agency is always a good idea.
Not only do they book your holiday in an organized manner, but they also take care of your accommodation, travelling and other bookings as well. And how can we forget that it is always cheaper than what you're going to spend if you plan your holiday on your own?
How to book a Honeymoon in Singapore
Are you looking for a romantic honeymoon in Singapore with your newly-wedded partner? You can book your ideal honeymoon in Singapore package with the best travel agent that offers international holiday packages to people from India. You can search for their deals and travel sets online by visiting their website. And the package that you like the most can drop a query to get in touch with them for final booking.
Roaming Routes is the best travel company in India that offers the best international travel packages from India. They have the best and a wide range of sets for couples looking for a honeymoon in Singapore. Their Singapore honeymoon packages from India are affordable, have the best inclusions and customer support as well.Â
Conclusion
Choosing the perfect destination for a honeymoon can be a pretty challenging task and requires weeks of research and planning. And some people do not find their ideal vacation place even after much research. If you are also one of those couples who are still searching for their perfect honeymoon place, Singapore is the place for you. With long beaches, fancy city lights, distinctive architecture and romantic cruises, the site have everything to make your honeymoon memorable for a lifetime.